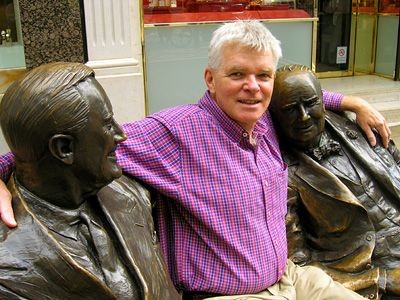 A London resident for a quarter-century, Steve Fallon has written or contributed to more than 100 different guidebooks, including eight editions of Lonely Planet's guide to London. Who could possibly know their city better than a guidebook author?
He is a dual US-Ireland national and lived in Paris as a student, taught English at a university in Poland before the Berlin Wall came tumblin' down, worked as a journalist for a dozen years in Hong Kong and then moved to Budapest, from where he wrote Lonely Planet's first guidebooks to Hungary and Slovenia.
Steve's extensive travel experience and knowledge gained from decades of writing guidebooks and travel articles makes him the perfect escort for in the UK and abroad. But London is home and what he knows best. From big-ticket attractions like the British Museum, Westminster Abbey and London Eye – and all the stories and personalities behind them – to the back streets of East London and Hoxton/Spitalfields after dark, Steve will introduce you to a city that most Londoners don't know.
Read about Steve's London tours »
Accredited Blue Badge Guide
In London
Sites for which Steve is accredited include the 2012 Olympic venues, British Library, British Museum, City of London, Docklands, East London, Greenwich, Hampton Court Palace, National Gallery, St. Paul's Cathedral, Tate Britain, Tate Modern, Tower of London, Victoria & Albert Museum and Westminster Abbey.  Steve has a special accreditation to guide visitors with special needs. read more »
Outside London
Sites outside London for which Steve is accredited are Bath, Canterbury and Canterbury Cathedral, the Cotswolds, Oxford, Salisbury, Stonehenge, Stratford-upon-Avon and Windsor.
Farther Afield in the British Isles
South East England (Essex, Kent, Sussex, Surrey, Hampshire, Wiltshire), East Anglia (Cambridgeshire, Suffolk, Norfolk, Constable Country), Midlands (Coventry, Black Country, The Potteries, Peak District, Chester, Robin Hood Country), West Country (Dorset, Somerset, Devon, Cornwall, King Arthur Country), Scotland and Ireland.
Abroad
Steve has intimate knowledge of many countries in Europe (eg France, Italy, Spain, Poland, Hungary, Slovenia, Turkey etc) and Asia (eg China, India, most of Southeast Asia) and either speaks or has a working knowledge of a half-dozen languages. He is an inveterate traveller and always curious and awaiting new discoveries and surprises. Come join him on one of his unforgettable adventures.
Personal interests
Architecture
Victorian London
Fine Art & Sculpture
London's Jewish East End
Theatre
Gay History
Steve's Special Subjects
Architecture
Thorough knowledge of London's diverse architecture (including contemporary) through researching and writing guidebooks.
Churches & Cathedrals
London's wonderful houses of worship are legion, from medieval St Dunstan and All Saints and Bevis Marks Synagogue to glorious St Paul's Cathedral.
Food & Drink
As a food reviewer for a number of publications, Steve is very knowledgeable about London's restaurants, food shops and markets.
Industrial Heritage
A special interest and a veritable goldmine in London, especially in the East End.
Literature
London's is the epicentre of the English language and its literature and there is no end to the places visited and lived in by local as well as American, Canadian and Australian writers and poets.
Excursions from London
Many wonderful destinations are just on London's doorstep including regal Windsor and raucous Brighton while others (civilised Bath, literary Stratford, the postcard-perfect Cotswolds) are a couple of hours away.